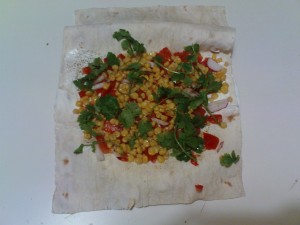 Tako sam ja krstila ono što sam danas sebi "skuvala".  Više mi se dopada kako zvuči na engleskom. Na srpskom, recimo vegetarijanska lavaš/rolnica. Hm. NIje ni to loše. Zvuči nekako paorski.
Lavaš je nešto što može u Moskvi da se nadje u svakoj prodavnici. Liči na naše kore za pitu samo deblje. Možda je reč o jufki? Nalik na tortilju recimo, po konzistenciji i debljini, a po sastojcima na kore za pitu. E baš tako.
Inspiraciju sam dobila od lokalnog kebab-mastera, gde s vremena na vreme klopam kad nemam vremena da spremim kod kuće moj brzi ručak. Kebab se u Rusiji inače zove šaurma. Koliko novih izraza. Ok, jedno po jedno.
Kebab je naravno sa mesom, a za mene kebab/šaurma-master napravi veggy šaurmu sa paradajzom, rotkvicama, kupusom i pomfritom.
Ovo sa slike je moja varijacija. Staviti malo mladog sira za mazanje, na to iseckati paradajz, rotkvice, kukuruz i dodati kinzu (korijander) koja mi je od pre dva meseca omiljen začin za sve i svašta. Sve to urolati, i jesti.