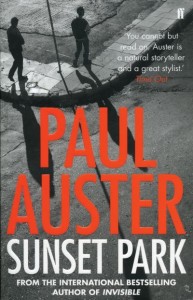 Čitam novog Paula Austera, Sunset Park.
His rent is low, since he lives in a small apartment in a poor neighborhood, and beyond spending money on bedrock necessities, the only luxury he allows himself is buying books, paperback books,  mostly novels, American novels, British novels, foreign novels in translation, but in the end books are not luxuries so much as necessities and reading is an addiction he has no wish to be cured of.
Pokušala sam da gledam serije. I da gledam tv. Ništa mi ne drži pažnju.
Pokušala sam da čitam vesti. Vesti su uvek iste.
Ali kad naiđem na dobru knjigu, radujem se što idem s posla kući i što znam da ću je čitati. U stanju sam da knjigu ne ispuštam iz ruku sve dok je ne pročitam, makar se do dva sata noću mučila. Isto i za dobru pesmu. Ponekad  puštam istu stvar milion puta dok ne skinem reči, muziku, glas pevačice i svaki ton, dok mi se potpuno ne ureže u krvotok. Kao opsesija.
Knjige i muzika. Tako se zima preživljava.
Nešto staro, ali mnogo dobro: